There's so many things to consider when planning your party, wedding or any other special occasion but what's the most important? That special something that will keep your guests talking about for years to come; something that will allow them to really feel part of the celebrations; something that will leave them wanting to come back, time and time again...

Our photo booth is the next BIG THING - a MUST for anyone wanting something that little bit different. It's exactly as it says - a purpose-built, fully-automated photo booth where your guests get to experience their five minutes of fame. It's their opportunity to go wild, be someone else or simply to leave lasting memories of your celebrations!

The best thing? You don't have to be a technical whizz to operate it (in fact, you don't have to be sober in some cases!) Just remember the four P's...

Props-Press-Pose-Print

We also have a multitude of weird and wonderful props in our bag of tricks to liven up every photograph so your guests can really make the most of the experience.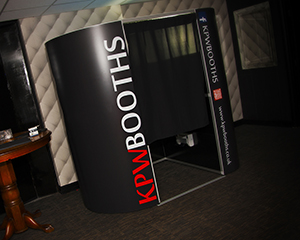 FAQ.

How much space is required?
We suggest at least a 10' x 10' area to include space for the booth itself, your guest line and a table for props
Are there any requirements for the hire of the booth?
We suggest the booth be placed within 6 feet of the electrical outlet.  Ideally, it must not be shared with any high-drain equipment, such as amplifiers, refrigerators, neon lights or other items that require heavy electrical use.

Is there a cost for delivery?
The majority of locations are covered by our FREE delivery service.  Should your location exceed the 20 mile radius from our base in Wigan, there may incur a charge.  However, if you are unsure contact us for confirmation.
Do I need to pay a booking fee?
A booking form is required to secure and guarantee the hire for your event, together with a fee of £50 (this is then deducted from the total hire cost).  The remaining balance is then required 21 days prior to the date of the event.
How long does it take to set-up the booth?
Your booth attendant will arrive at your venue in good time before the start of your hire (usually an hour).  We do not charge for set-up and this typically takes approximately 30-45 minutes to complete.  Our booth can be easily transported, whether the ground or upper floors of a venue and there is again, no charge for this.
How does the booth work?
It's exactly as it says - a purpose-built, fully-automated photo booth where your guests get to experience their five minutes of fame.  The easiest way to remember the process is the four P's – Props Press Pose Print!
What is the live image monitor?
The live image monitor is a 21.5" touch screen LCD that allows your guests to see themselves before the photo is taken. Simply touch the screen, strike your pose and smile.
What kinds of props are available?
We have a huge array of props for you and your guests to utilise.  However, if your event has a particular theme then on some occasions, we can cater to specific requirements but feel free to contact us for further details.  All props are expected to be returned to the booth attendant after each use in the exact same condition.  Should props be damaged in any way, this will result in an additional charge to replace the prop in question.
How long will I be able to use the booth?
This will depend on the length of coverage you have booked but this is typically two or three hours.  Additional hours can booked but this incurs an extra charge.
How many people can fit in the booth?
We would advise comfortably, no more than 6 people in the booth at any one time
How many photos are included?
Each hire includes unlimited photos i.e. as many as you and your guests can capture within your hire period.
What is the photo quality like?
We use a professional Canon DSLR camera and shoot in high resolution creating true photographic quality images.  Prints are done using a high standard dye sublimation printer which offers high quality and rugged, water resistant prints (ideal for a party environment) that are printed within 10 seconds
What size are the photos?
The prints are 6x4 and you have a choice of formats; 4 passport-sized images (2 copies of); 1 image and 3 small images or 4 images of equal size.  You also have the option for colour or black and white prints.
Can I choose to have branding on my prints?
When you book our booths we will automatically ask you what you would like and our graphic designer will make the rest happen free of charge.
Will we get a copy of the photos as well as our guests?
Yes, as the Host, you automatically get a copy of all photos from the event on USB.  Additional copies of the prints can be ordered for £50.
What happens with the images afterwards?
All images from each event can be used by us for promotional purposes only, unless agreed otherwise by the client
Will there be an attendant with the booth?
Yes, there will be a fully-trained attendant who will set-up and breakdown the booth at each event.  They will also be on-hand throughout the duration to deal with any problems and generally assist with the running.  They will also encourage your guests to utilise the props on offer and ensure they get the most out of the experience!
Are you insured?
Yes, we have Public Liability insurance cover for all our events.  In addition, all equipment associated with the booth (including the booth itself) is separately PAT tested for electrical safety.
What is your policy regarding cancellations, weather conditions, postponements and re-scheduling?
If the booking is cancelled within 3 days of signing the booking form, the booking fee is refundable
If the booking is cancelled more than 3 days after the booking date, the booking fee is non-refundable. The booking form is valid whatever the weather and the client is required to provide shelter from such weather (if applicable). If the event is cancelled as a result of extreme weather conditions, hence requiring the event to be rescheduled, there is no loss of the booking fee as long as the date rescheduled is mutually agreeable (time and date) within 3 months of the original date.
Can the booth be set up outdoors?
The booth can be set up outdoors under very specific conditions, including protection from the elements, adequate electrical supply etc